Rostselmash Machinery Has Reached the Land of Paraguayd
21 December 2017
Rostselmash Machinery Has Reached the Land of Paraguay
Rostselmash represented the Russian agrarian machine manufacturing industry at the specialised exhibition AgroDinamica Colonias Unidos, which closed in Paraguay. TORUM 750 grain harvester, RSM 1401 forage harvester, Tukan pickup baler, Kolibri rake, Berkut mowing machine were demonstrated to the Latin-American country's agricultural producers.
"Our stand attracted active attention of the local farmers and agrarians from the boundary states of Latin America," the representative of Rostselmash having worked at the display reported. "As early as on the first day of the exhibition work, we conducted meaningful negotiations with our potential partners — dealers and customers.
According to the representative of Rostselmash, the agricultural producers of Paraguay distinguished the perfect performance specifications of the Russian machines and their affordable prices. According to the feedback from the farm heads having visited the stand, purchase of the combine harvesters and forage harvesters offered by the Russian machine manufacturers may become a beneficial investment in the business development.
Following the results of AgroDinamica Colonias Unidos, both TORUM 750 and RSM 1401 harvesters, as well as other machinery of Rostselmash remained in the country to be further transferred to the farmers of Paraguay.
Rostselmash participated in AgroDinamica Colonias Unidos as part of the delegation of the Russian business community at the invitation of the Ministry of Industry and Trade of the Russian Federation and Rosspetsmash Association. Experts of Paraguay and Russia see great prospects for the partnership of the two countries in the area of specialised machine manufacturing.
"The previous business mission showed that Paraguay is deeply interested in purchasing the Russian specialised machine manufacturing products. The local entrepreneurs are considering a possibility of purchasing combine harvesters, tractors, spraying machines, other machinery and equipment," the representative of Rosspetsmash Association reported.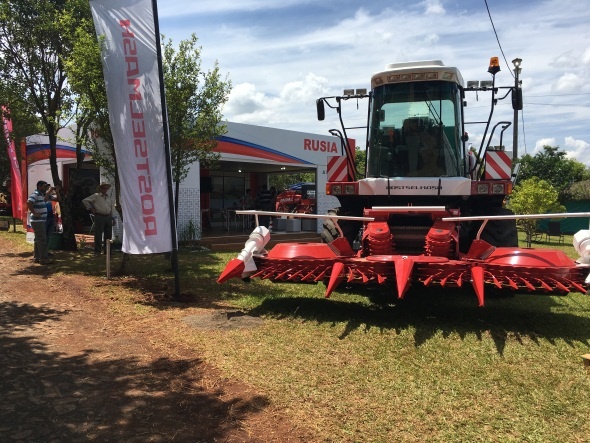 According to the expert estimates, in the future, the Russian machine manufacturers can occupy up to 15-18% of the agricultural machinery market in Paraguay.