Social responsibility
Rostselmash cares about the life quality of many people: its employees and their children, employees of dealers, and customers. We do our best to make their lives better and more interesting. The Company has the series of measures directed to this issue.
Safe labor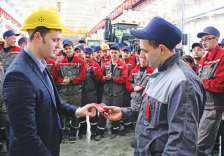 We put maximum sense into this term. Rostselmash cares about safety of its workers on their stations, as well as on the safety of its customers during application of agricultural machines and aggregates. We carefully think about the working-out of all production processes at our enterprises. Rostselmash provides all main production employees with uniform and individual industrial protection means. Safety measures are strictly observed at all enterprises of the group of companies.
We continuously improve the units and aggregates of our materiel from the point of view of their trouble-free and safe operation.